Review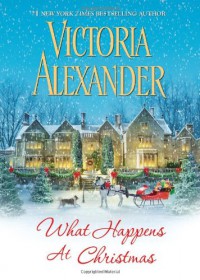 I picked this up for free and just checked - it's still free for those interested :)
---------------------------------------------
Quick, light and funny. I was pleasantly surprised by this new-to-me author. There was so much in this book, it makes me wonder how one could keep the pace like this in each book one writes - are all of Victoria Alexander's books stuffed with so much story?

Camille, Lady Lydingham, is throwing a traditional Dickens English Christmas for a Prince that she plans to garner a proposal from. The problem is that her family is somewhat eccentric, and in an effort to be "normal", she hires actors in their places.

Never mind the silliness of the plot. Hilarity ensues. I was amused by each unexpected arrival and the whimsy and fun of each character.

The romance of the book is subtle and not over the top, a great balance to the very grand play going on around them. There was a point in the book where I realized that I much appreciate a good verbal fight between characters over a great big misunderstanding any day of the week. I thought the banter, both playful and in anger, were done so well.

The ending was a little weak for me - the great rhythm between our H/hr was lost to create a problem for the finish. There was a face palm moment, "Why did they do that?". And the overly romantic gesture was not to my taste - I obviously like a romance, just, not the corny variety.